Divide our plastic footprint by two, a possible scenario for Europe according to our exclusive study 
From the 29th of May to the 3rd of June, negotiations to establish a binding international treaty to eliminate plastic pollution are being held in Paris.
The Fondation de la Mer, which is taking part in the negotiations, is calling for a strong mobilization in favor of reducing our plastic footprint.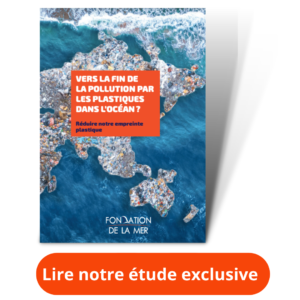 Halving Europe's plastic footprint is possible with strong commitments, according to an exclusive study by Fondation de la Mer
According to a study carried out by the Fondation de la Mer, based on the Organisation for Economic Co-operation and Development data (OECD), Europeans could halve their consumption of virgin plastic by 2060, provided that legislation changes, industrial processes are transformed and innovation is encouraged.
Without these commitments, the Foundation warns of catastrophic projections by 2060: 290 tonnes of plastic waste would be dumped into nature every minute, much of it into the ocean.
The Fondation de la Mer's contribution to the international treaty
The Fondation de la Mer calls for a global awareness-raising campaign involving all stakeholders: companies, legislators, public decision-makers and civil society. It formulates specific recommendations to achieve the goal of halving Europe's plastic footprint, including :
Phase out single-use plastics. While the AGEC law (law against wastage and for circular economy ) on the circular economy and the European directive marked a turning point, much remains to be done in Europe, and elsewhere in the world;
Extend bans to packaging, which is not essential for health reasons, and which accounts for more than a third of the plastic produced worldwide;
Impose eco-design to reduce the environmental impact of packaging without increasing product waste; develop a sector-specific approach;
Implement systems for the reuse of all products containing plastic; develop deposits wherever they can be organized;
Offer substitutes for plastic products, ensuring that their carbon, water and material footprint is not negative;
Extend the lifespan of all other plastic products, by combating programmed obsolescence and increasing their resistance to microplastic degradation. Two-thirds of plastic products have a lifespan of less than five years;
Encourage the production of genuinely recyclable or biodegradable plastics, ensuring that the vocabulary used is scientifically accurate.
Field associations stress urgent need for coordinated action
The recommendations formulated by the Fondation de la Mer are based on the opinions of its Scientific Advisory Board, and the Opinion for which the Foundation's President was co-rapporteur at the CESE, but they are also based on the findings of those working in the field, engaged on a daily basis against the pollution of natural environments.
An in-depth survey was carried out among 300 associations involved in the "Un geste pour la mer" (A gesture for the sea) program, which coordinates litter collection along the coast. Ninety-eight percent of them reported that litter had stabilized, and 61% that it had even increased.